Protecting families in Bangladesh against floods: Early Action Protocol activated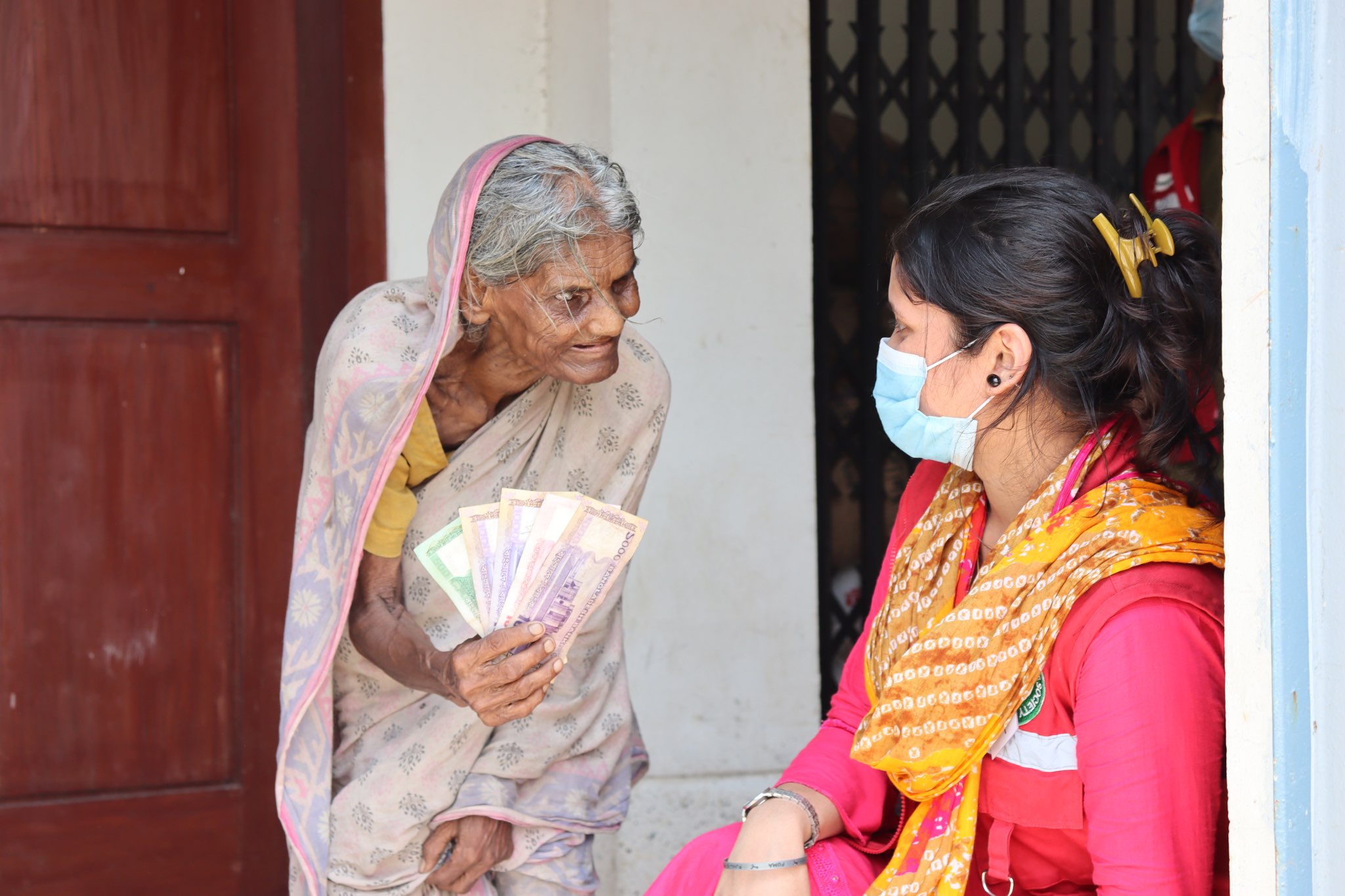 Flood levels in large areas of Bangladesh are rising due to heavy monsoon rains, threatening the health and livelihoods of more than 4 million people. The Bangladesh Red Crescent Society (BDRCS), with support of the German Red Cross (GRC), is taking urgent early action to help families to bring themselves, their livestock and belongings to safety and to address their most urgent needs.
Bangladesh Red Crescent Society Secretary General Feroz Salah Uddin said: "The flood water is rising alarmingly and many areas are already inundated. Our volunteers and staff are on the ground to assist the most vulnerable communities before the water reaches the danger level.
The activation of BDRCS' Early Action Protocol on Floods comes after both thresholds of the pre-defined triggers were reached last week: On June 25th, the Global Flood Awareness System (GloFAS) issued a forecast predicting a more than 50% probability of a severe 1-in-10 year flood event. Based on this first trigger BDRCS volunteers and staff were sent to the three districts most at risk (Gaibandha, Jamalpur and Kurigram) to register the families most in need and prepare for early actions. Three days later on June 28th, the Bangladesh Flood Forecast and Warning Centre's 5-day forecast confirmed there would be a severe flood. The forecasts triggered the release of more than 230 000 CHF from the International Federation of Red Cross and Red Crescent Societies' Forecast-based Action by the DREF and initiated the implementation of anticipatory action.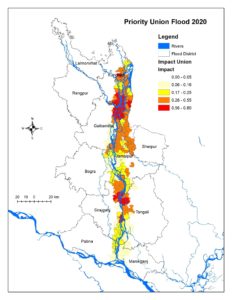 Since Monday, June 29th the following early actions are being implemented to support 16,500 people:
Provision of boats and assitance evacuating people, livestock, and movable assets from the flood zone to safe areas
Distribution of cash grants of 4,500 Bangladesh Taka (roughly one monthly salary),
Provision of basic first aid services
The population in the prioritized communities along the Jamuna river is very poor, often without any savings. They live mainly off their  land and livestock or work as day labourers in the fields of others. When flooding occurs, it is a priority for many families to evacuate and bring their belongings and livestock to safety. Depending on the flood event, evacuations can last 20 days or more. The cash grants, which correspond to roughly one monthly salary, provide families much needed support in securing basic needs during the evacuation without having to take high-interest loans. Families use the grants to purchase foods, medicines and fodder for animals and to evacuate themselves, their livestock and their belongings. This evacuation is also supported by BDRCS with additional boats.
Many of the communities are already struggling because of COVID-19. IFRC Head of Bangladesh Country Office Azmat Ulla said: "The compounding effects of COVID-19 and the floods could be devastating, and this funding is crucial to reducing the impact as much as possible."
Special precautions are being taken to avoid increasing the risk of Covid-19 transmission. GRC project officer Afroza Haque said: "We are disinfecting the distribution points and also the boats after each round of evacuation. We are also trying to have more distribution points, to have less crowds and to ensure physical distancing. Volunteers are ensuring that people wear masks and provide them when needed and hand sanitizer is available."
BDRCS and GRC work closely with the United Nations World Food Programme (WFP) on Forecast-based Financing in Bangladesh. WFP uses the same triggers to activate early actions for floods and supported another 6,000 vulnerable households, also with cash grants  of 4,500 Taka, this week.
This is the second time this year that Forecast-based Action by the DREF has released funding for early action to save lives and livelihoods in Bangladesh; just six weeks earlier anticipatory actions were triggered due to the arrival of cyclone Amphan in May 2020.
© Bangladesh Red Crescent Society/ GRC

Forecast-based Financing (FbF) has established mechanisms to automatically allocate funding for early action once forecasts indicate a high probability of an extreme weather event. The goal of FbF is to anticipate disasters, prevent their impact, if possible, and reduce human suffering and losses. A key element of FbF is that the allocation of financial resources is agreed in advance, along with the specific forecast threshold that will trigger the release of those resources for the implementation of pre-defined early actions. The roles and responsibilities of everyone involved in implementing these actions are defined in an Early Action Protocol (EAP). The Bangladesh Red Crescent Society, the German Red Cross, the IFRC, the Red Cross Red Crescent Climate Centre and local authorities developed the Bangladesh Early Action Protocol for Floods over the past year. The activation was also supported by the Swiss Red Cross. The FbF project is funded by the German Federal Foreign Office.