Launch of the FbF Practitioners Manual!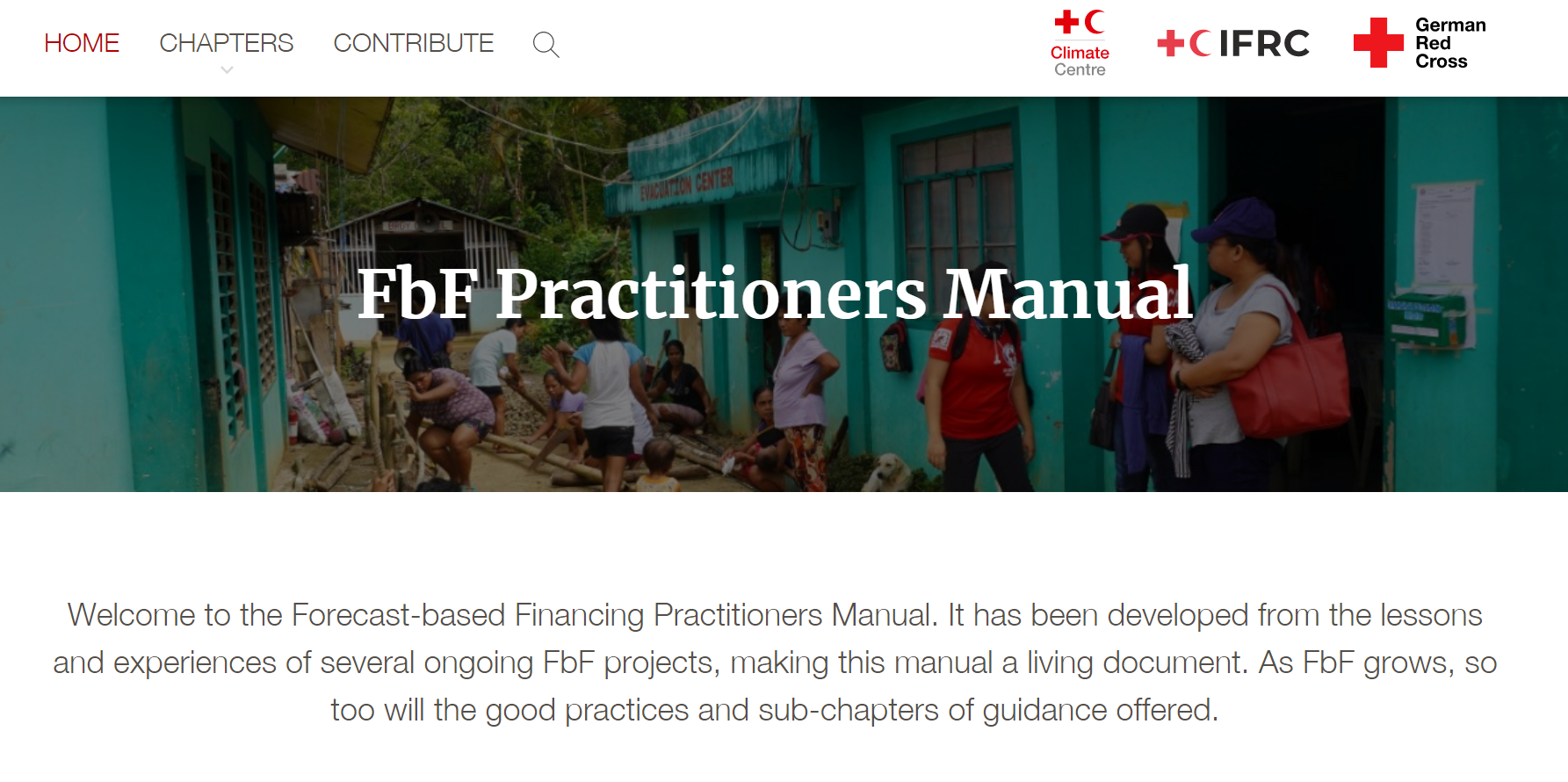 We are pleased to announce the launch of the new and improved FbF Practitioners Manual, a step-by-step guide for FbF implementation.
Are you a National Society, or government authority engaged in Disaster Risk Management? A meteorologist, hydrologist, humanitarian, academic, or simply generally interested in the Red Cross Red Crescent FbF methodology? Then we have developed this Manual for you.
The FbF Practitioners Manual outlines the necessary steps National Societies and partners undertake to implement FbF, engage government authorities, Hydro-Met agencies and communities for enhanced Early Warning Early Action.
Key upgrade features:
Methodology:
Upgraded chapters designed to guide you through the core FbF steps for in-country implementation: from Committing to FbF and Assessing Feasibility, to Engaging with Stakeholders, and Ensuring your National Society is FbF Ready, to Developing your Early Action Protocol, Setting the Trigger, Selecting Early Actions, Designing M&E, Simulating, Approval and Finance, Activating, Monitoring and Evaluating!
Inspiring examples from National Societies' FbF projects:
The Manual has been developed from the lessons and experiences of ongoing FbF projects of Red Cross and Red Crescent Societies around the world.
New user features:
Each chapter includes interactive multimedia so you may see, watch, hear, and dive into detailed FbF guidance. Each chapter includes a range of photos and videos from FbF project countries, info boxes and drop-downs, and a toolkit with key templates and resources.
This Manual will serve as a living document, which we will continuously update and expand. We look forward to the addition of thematic sub-chapters, case studies and resources from practitioners, for practitioners.
We welcome your feedback, resources, good practice examples, action-packed photos and written contributions. Take part in shaping the FbF Practitioners Manual and get in touch here!